Husqvarna Riders
30 Years
Husqvarna's passion for innovation has led to a long line of successful products. Our Riders, ride-on mowers, are the perfect example. 30 years of perfecting an idea—pushing it from one pioneering breakthrough to the next—has turned Husqvarna Riders into the flexible, innovative machines they are today.
Husqvarna Ride-On Mower Features
Husqvarna Ride-On Mowers are packed with features to help you take your garden to the next level. Here are just a few.
Combi Cutting Deck
The Combi cutting deck offers two different cutting options; BioClip or rear discharge.
All-Wheel-Drive (AWD)
All-Wheel-Drive (AWD) ensures traction on uneven, wet and slippery areas and slopes. AWD automatically adjusts the traction on all wheels depending on the situation and ground condition.
Expertise and how-to's
The key to a better-looking garden is to never stop learning. Take advantage of our experience and knowledge to help you get the most out of your Rider.
Attachments and accessories
Your Rider is capable of so much more than just mowing. Husqvarna has a comprehensive range of attachments for all kinds of purposes, such as brushing, snow removal, flail mowing and the transportation of goods.
Newbridge Sales & Hire stock a large range of Husqvarna Ride-On Mowers
Newbridge Sales & Hire stock a large range of Husqvarna Ride-On Mowers. If you're interested in purchasing one of our models, or would like to request a demonstration of these fantastic Husqvarna Ride-On Mowers, then please give us a call on
045-434040
or get in touch via our
contact page
.
A flexible and powerful Rider with a high-torque twin-cylinder engine and factory-mounted, 94cm Combi cutting deck, offering first-class BioClip® (mulching) and rear ejection cutting. Suitable for home- and landowners who require extra high efficiency, ease of use, superior manoeuvrability and a truly enjoyable ride. Pedal-operated hydrostatic transmission, easy-access controls and automatic blade engagement.
Contact us for a quote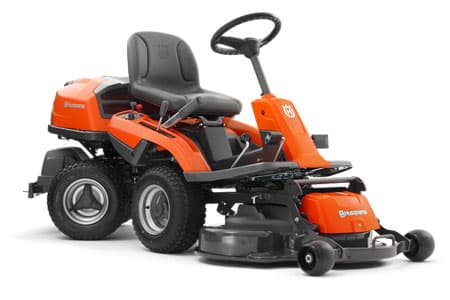 Combining ease of use and excellent handling with power and performance, this All-Wheel Drive Rider with a high-torque V-twin engine is a pleasure to operate and deliver great results. The articulated steering provides manoeuvrability for the really tight turns. Equipped with LED lights and Turn Key Start.
Contact us for a quote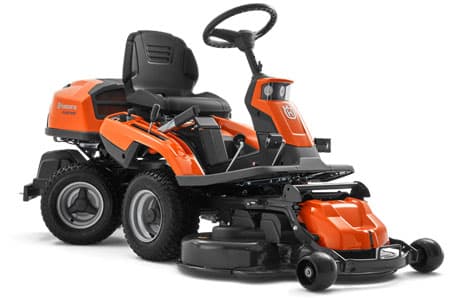 Compact, hugely capable and flexible Rider with a powerful V-twin engine and a choice of cutting decks, BioClip® (mulching) and rear ejection. Equipped with an intuitive display, dual headlights and Bluetooth connectivity with which you easily monitor your rider with the Husqvarna Connect app.
Contact us for a quote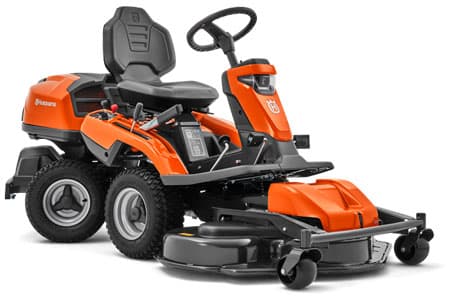 Designed for homeowners who value Husqvarna quality, reliability and innovation, RC 318T is a tough, versatile Rider. Its innovative non-clogging collection system feeds clippings straight from the front-mounted cutting deck to the 300 l bag. Automatic compaction increases run time between emptying, so you get more done. Thanks to its innovative design this ride-on mower offers effectiveness, efficiency and ease of use. Service and cleaning of the cutting deck is tool-free thanks to the unique 90° service position. Its intuitive controls, excellent ergonomics, unbeaten area coverage and huge collection capacity make this a truly worthwhile investment for larger gardens.
Contact us for a quote